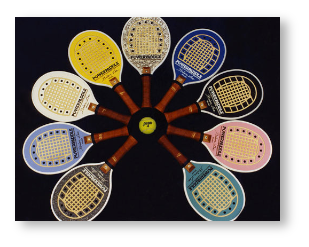 What Puts the Power in Powerpaddle?
All our paddles are handmade using the finest quality materials by Brian Lee in our shop in Venice, California. Each paddle has 18 individual operations in it's manufacturing process and you'll find it to be a very long-lasting, tough product from people who have over 30 years of experience making paddles for the game of paddle tennis specifically.
CORE: Our wood paddle uses 5-ply Baltic Birch for genuine hard-wood strength. Deep waffle cuts in the wood and the heavy duty plastic laminate from Wilson Art provide exceptional top- and under-spin. You'll find that the sharp cuts bite right into the ball, to provide exceptional control with all your on-court moves.

HANDLE: Solid Alder hard wood, hand shaped. Fastened with aircraft riv nuts and screws to keep the throat strong for power hits.

GRIP: Available in 3 different sizes: 4 1/4", 4 3/8" and 4 1/2" (same as standard tennis racquets) wrapped with soft rubber cushion by Forten Corporation.

RIMS: Hand-pounded light weight aluminum

COLORS/FINISH: Classic marble / granite patterned / solid colors. Each paddle is also Powerpaddle branded with Naz-dar epoxy resin ink silkscreening.